Selfie Mirror
'Explore our Award winning selfie mirror range, with choice of mirror frames & more!
Watch Video
Image Gallery
Selfie Mirror
Our award-winning selfie mirrors are the latest in Photobooth technology to hit the Irish Wedding Market! Using a two-way mirror your guest's reflection is displayed live and interactive elements are displayed on-screen inviting your guest to 'touch the mirror' to start the photo experience!
Unique on screen animations, option of multiple photos & instant prints, this booth is a show stopper!
Plan your event
Cherish the Memories with our Guestbook
It's all about saving those special moments, this is why Instaglam will provide you with one of our bespoke Wedding guestbooks to keep a copy of each and every picture from your Special Day accompanied by a hand written message from all your nearest & dearest!
Testimonials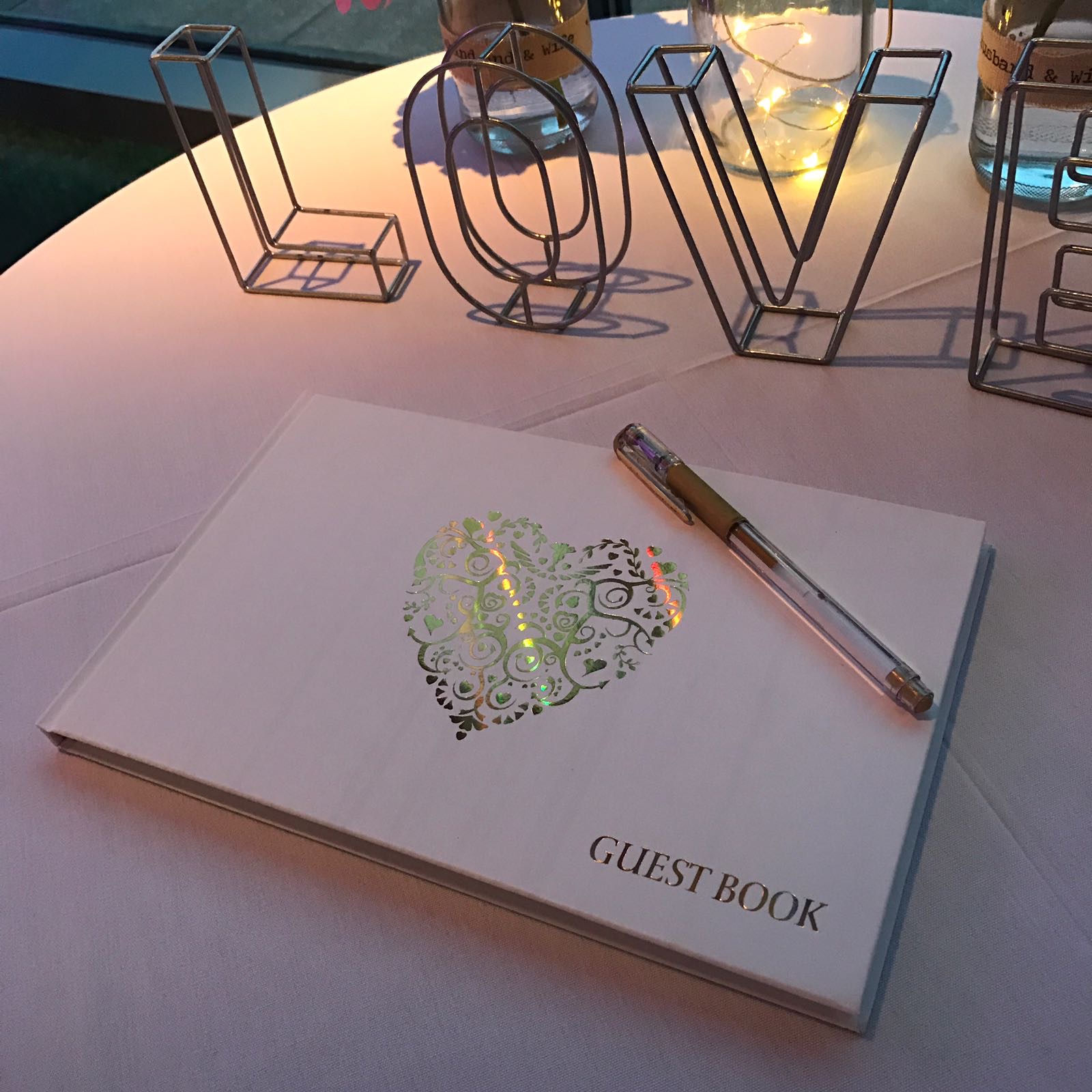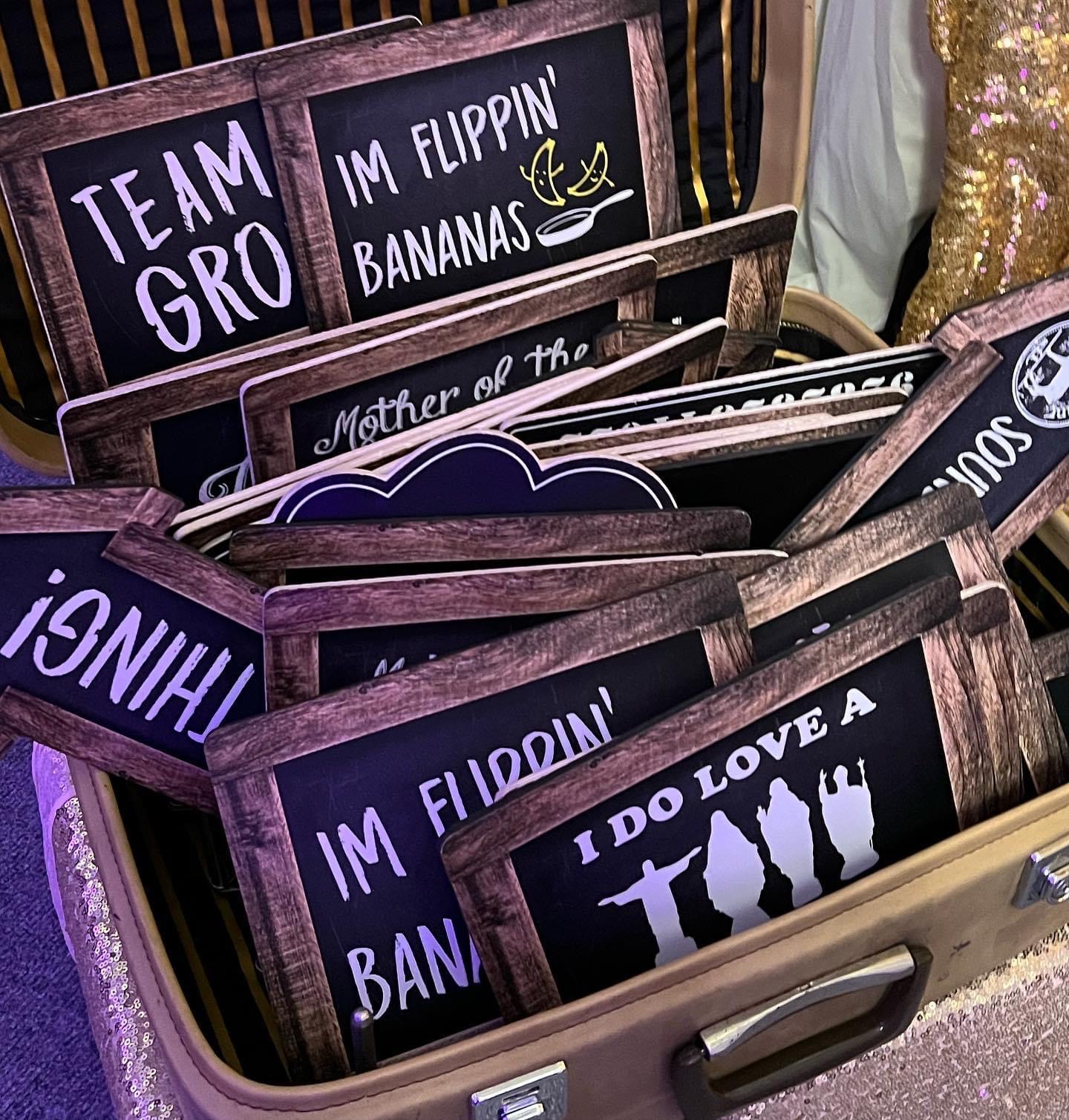 Oh WOW Props!
Let's be real, It wouldn't be a photo booth without props! We've literally scoured the world over for hands-down the best props & signs you can get. Having a themed event? Let us help you find some stuff that will really step things up a notch from our vast collection!
Image gallery
Image Gallery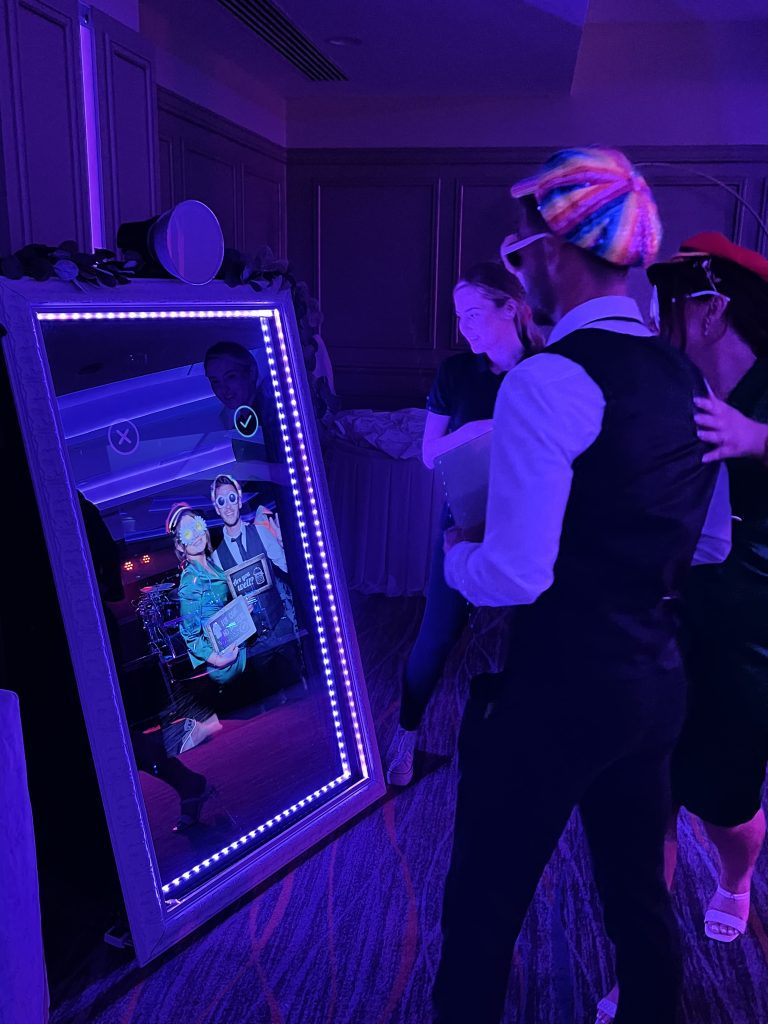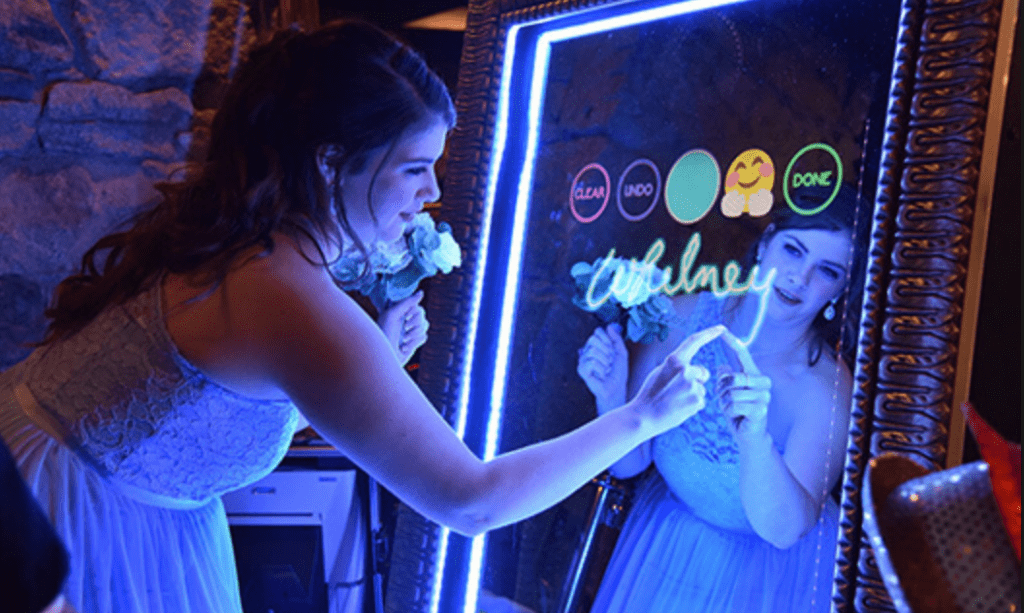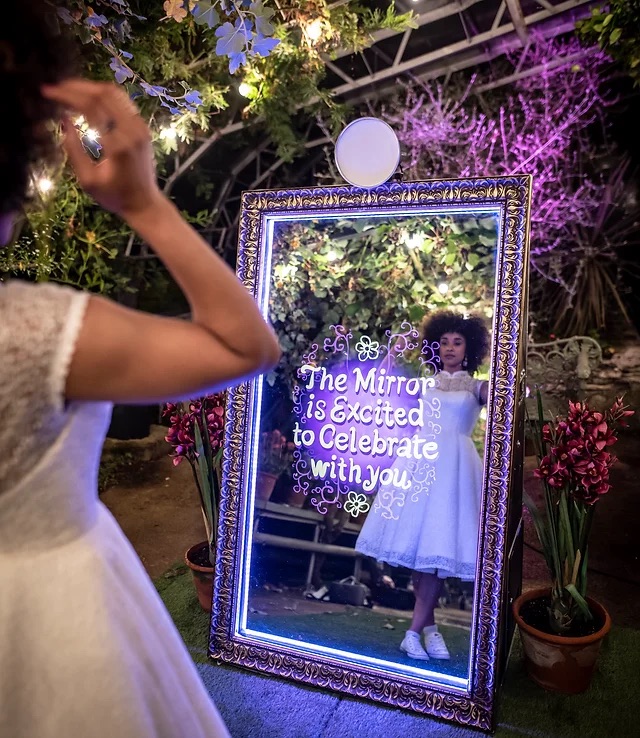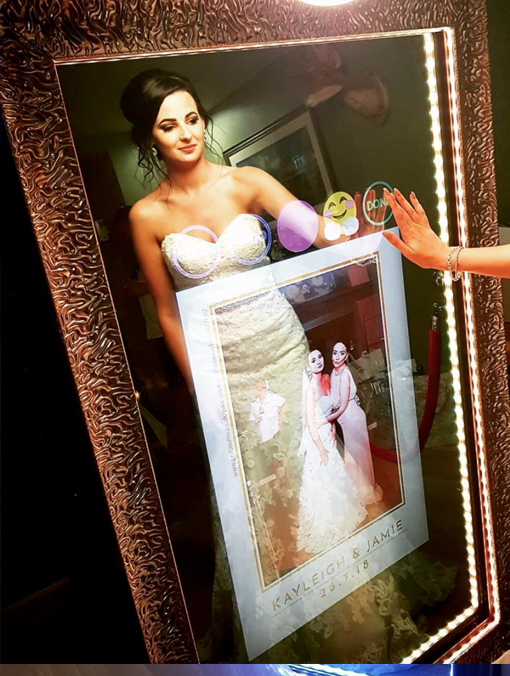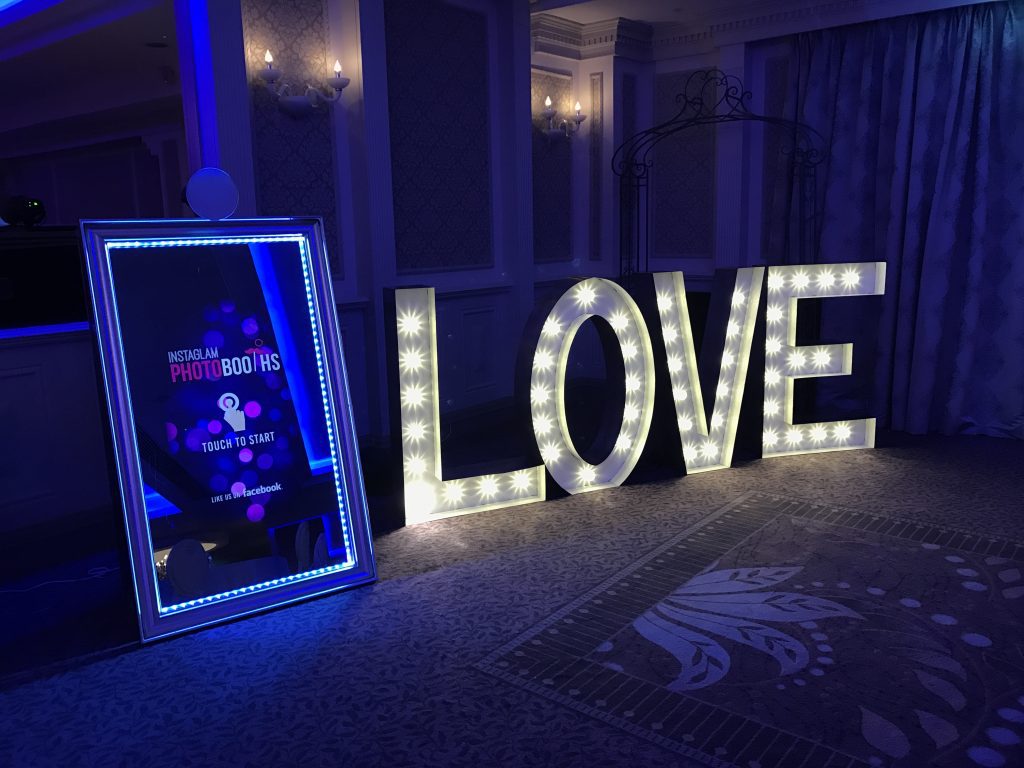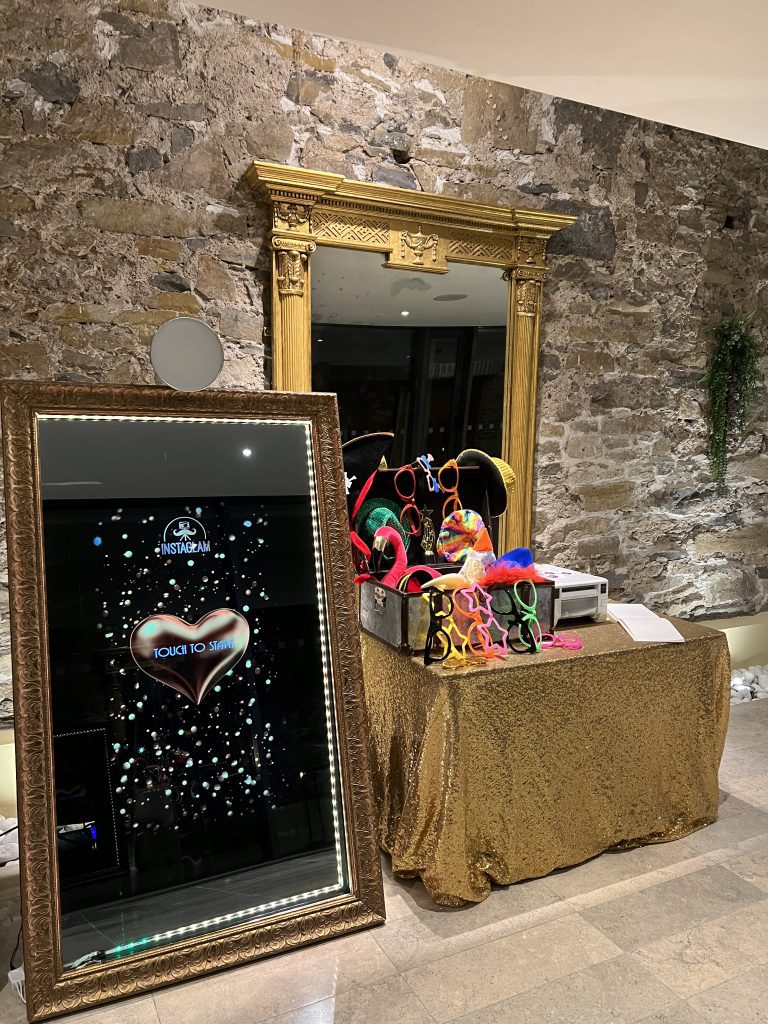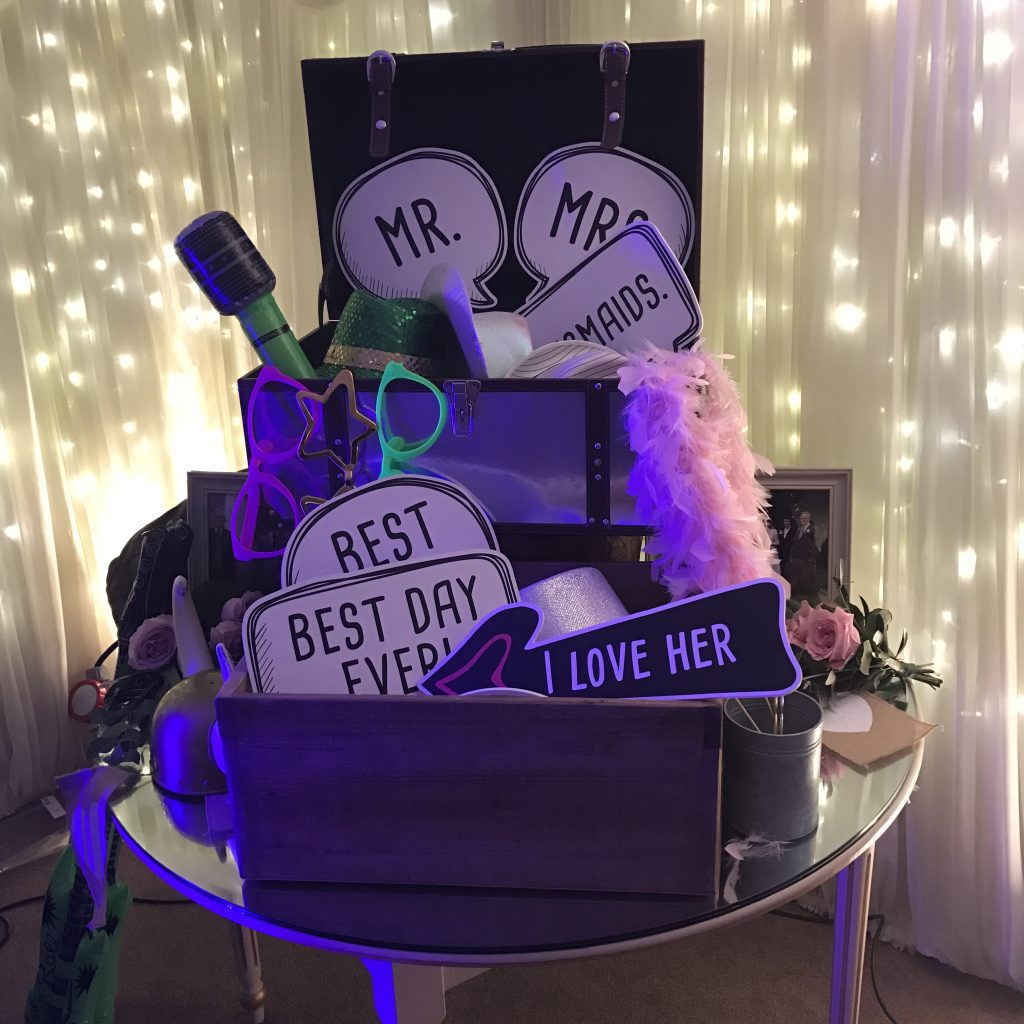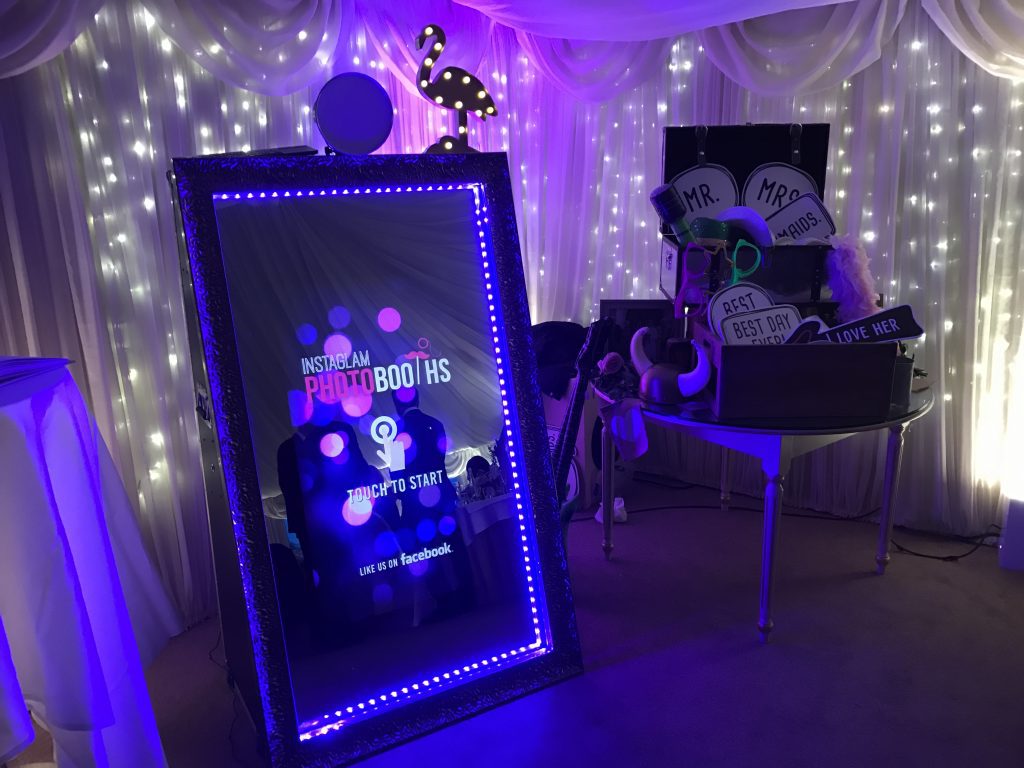 "We cannot recommend Instaglam Photobooths enough! They were absolutley brilliant from start to finish. Booking was easy and fuss free. They had a great range of products to choose from. We went for the Selfie Mirror and it was fab. Alan and the team on the wedding day were so lovely and kind, they made sure our guests were totally emersed into the fun and chaos of the props etc. The guestbook was a really lovely touch, we had not seen this before with a photobooth. It's a great way of capturing all the photo's in one place and to allow your guests write a personalised message alongside. We loved it and our guests loved it too! We would HIGHLY recommend Instaglam Photobooths as a supplier, a great team to work with and well worth the investment!

Lesley & Frank
"I was the bridesmaid for my sister and paid for Instaglam photobooth as a gift after I saw them at a wedding I attended and it was a huge hit with everyone! Alan was so nice to deal with from start to finish, and explained different mirrors etc. We agreed on large selfie mirror and he supplied a huge trunk of different props that were hilarious and everyone got a kick out of. Alan and Zoran were so friendly to everyone on the night and alot of fun . The photobooth definitely provided alot of entertainment to the wedding to all ages! They even provided my sister with a signed guest book which was very thoughtful.

Elaine & Padraig
"What can I say, instaglam is a must have at any venue be that weddings or corporate events. The team were so friendly and accommodating when we had to move our wedding date due to Covid. All our guests had nothing but great feedback on how they enjoyed it and they captured great memories of the day. The back drop and photobook were amazing little touches. I would highly recommend them and no doubt be looking for their business in the future.

Paul & Caoimhe
"The photo booth ended up been the biggest hit at the wedding! Everyone got a kick out of it, and it was used all night long. We had the vintage pod at the drinks ceremony and it was also a hit. The photos turned out great. Alan was a pleasure to deal with and sent us different backdrops etc that he thought would be appropriate with our colour scheme etc and everything was perfect! He was also so friendly and pleasurable on the night with all the guests ,young and old. Highly recommend the company to all my family and friends.

Claire & Enda
"We had the selfie mirror for our wedding and we couldn't recommend it enough. The guests had great craic! Everyone gets a copy of the photo which is brilliant. And then the guests get a spare copy to put into the guest book if they want and they can leave a message! We had great fun reading and laughing at the messages/photos the next day! The 2 guys on the night managing the selfie mirror had great energy and were super helpful! Would have no problem recommending instaglam to anyone! Thanks guys!

Lorna & Keith
"So glad I found Instaglam! They brought so much fun to our wedding! People were queuing to get in front of the camera and kept returning for more and more photos! I think we were trying to break records as to how many people we could get on the one photo - such a scream! The props were fab and Alan and his colleague were lovely with us and all the guests! Unlimited photos was amazing! Alan - you were a pleasure to work with. So kind and friendly and very prompt in your replies via e-mail and phone call! Thank you so much. You made the wedding a great craic and I absolutely love the finished album! What a beautiful touch!

MR & MRS Jacob
"Everybody had great fun - there were queues all night at the selfie mirror. The guest book is a great keepsake for us to look back on in the future - plenty of funny pictures and comments. Props were very good, service was excellent. I definitely recommend - a brilliant novelty for both young and old!

Sinead & Jamie
"*" indicates required fields
Stay up to date
Fun for the festive period!